"I've learned to embrace the suck and find wisdom while appreciating the middle. I am your guide to navigating the suck.

Keri Setaro

Yoga & Meditation Instructor | On-Air Momtrepreneur
Generous Words from My Peeps
"No matter what level of yoga you're at, Keri makes you feel as though you absolutely belong on the mat — regardless if you're a master yogi or if you can't touch your toes. She's encouraging and inspiring. There's no judgement or preaching, just warm instruction and the best f'n musical playlist you could ever hope to hear. Be ready to leave class feeling great and wanting more."
"Keri is a wonderful and accessible yoga teacher. She does the hard work and gets into the more arcane reaches of the yoga world, bringing back the good stuff for rest of us, in usable doses, and with humor. I've been trying to get my body (and mind) into better alignment, unlearning old habits… it was all getting a little stale, and late last year I came across Keri, subbing for another teacher. She was a breath of fresh air. Keri makes it easy and fun to keep this stuff up – I'm going to her classes a couple of times a week now."
"I don't think I could even go to yoga if she wasn't teaching, I've become so obsessed with her classes. She's funny and inspirational and gives lots of individual attention to everyone and plays amazing music. (I'm always downloading albums on her recommendation.) The talks she gives at the beginning of class always sync perfectly with something I'm dealing with in my life and I walk out feeling like I have so much more perspective about that issue."
"My time practicing with Keri has truly been life changing. I luckily stumbled into her class last September and instantly knew that she was my kind of teacher. Her approach to the practice is heartfelt, yet refreshing. I can honestly say that she completely changed my perception of yoga teachers and lit a fire inside of me to deepen my own practice, while having fun of course!"
What's My Deal?
Guiding you into your flow – mind, body and spirit – without all of the bullsh*t.
Off-color mommy group discussing all things from postpartum sex, to mom fails, to the everyday struggles to be selfless mothers.
A hilarious, unfiltered look at today's trends and topics through the lens of motherhood.
Bringing an irreverent dose of the everywoman to my on-air endeavors.
If you can't laugh about it then you aren't alive. Seriously though, we have to navigate these waters with humor or else we sink.
A teacher and a creative should be a lightening rod for inspiration. You have to get out of your own way to do both. You are facilitating the healing or the storytelling but YOU are not the thing. You have to get out of your own way and be a clear channel.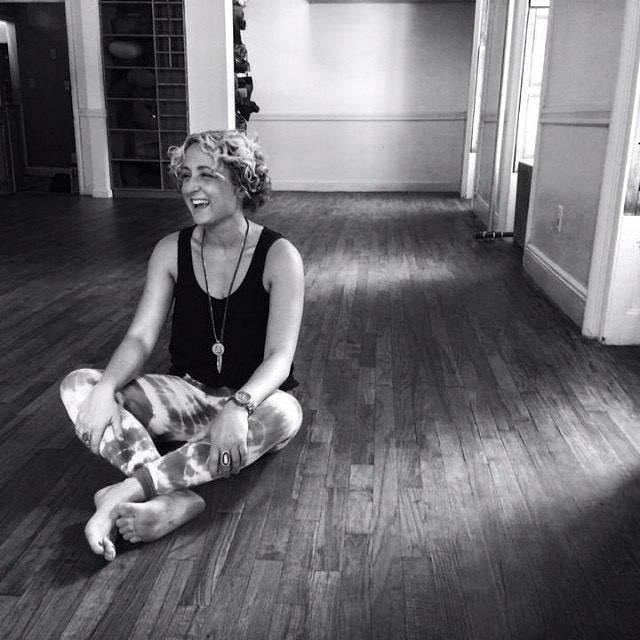 Whether you prefer a group session or a private one-on-one, it's super simple to book a time or view a live stream.
Group Sessions
Check my calendar for upcoming live streams on Facebook and Instagram.
Group Sessions
Follow me on Facebook and Instagram or join me on Zoom. Many of the sessions are recorded and saved for later viewings.
One-On-Ones
Schedule private sessions and delve into a yoga and meditation program designed around you.
One-On-Ones
Enjoy private sessions in the comfort of your own home over Zoom or FaceTime.